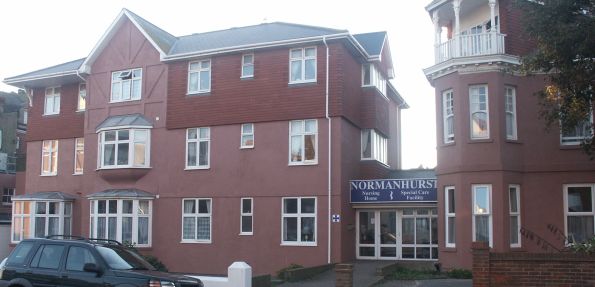 Nursing Home
(registered for 31) - Catering for the elderly frail, post operative, acute medical, chronically sick and terminally ill. Also holiday respite care and convalescence
The Normanhurst Nursing Home is for those people who need the attention of trained staff, 24 hours a day, in a dignified and caring atmosphere. We cater for the acute medical, post surgical, chronically sick and terminally ill (also holiday respite care and convalescence). All rooms have a telephone and nurse call system, as you would expect. All floors are served by a new lift and accessibility has been designed into the building.
Registration with a local GP can easily be arranged
The Normanhurst Nursing Home is adjacent to the Residential Hotel and serviced by the hotel for food, laundry, etc. The Nursing Home has a small homely lounge with television, an intimate dining room overlooking the private gardens. Although some rooms do have a view of the sea, they are not on the sea front. However, guests are encouraged to make use of the private gardens and can be escorted by the staff along the sea front (wheel chairs are provided).
Service Links
Please view the information on our three sections and the services that we offer.
ServicesResidential HotelNursing HomeAnnex - EMI Home
Staff Training
43% of our staff have NVQ level 2 or higher, with a further 30% currently completing their qualifications.
CQC Rating
Normanhurst Nursing Home
Requires improvement
7th September 2016
Please see the report on the CQC website - www.cqc.org.uk.