Residential Hotel, Nursing Home & EMI Home (all Registered)
Catering for the Active retired, elderly frail, post operative or mentally frail.
Our Prices
Room prices are inclusive of all meals and machine washable and dryable laundry. The only extras are for: hairdressing, chiropody, manicure, pedicure, guest meals, newspapers and outgoing telephone calls, faxes and emails. Room service is free to guests.
All rooms are tastefully decorated and wired for television, radio, and telephone. No TV licence fee is payable by residents and a television will be provided free of charge if required. Residents may bring their own furniture if they wish.
At the Normanhurst ALL your quarterly, monthly and weekly utility bills are included in the quoted room rate. TV licence, Council Tax and Service Charges, are all included at the Normanhurst, taking the worry away from you.
We are conscious that at all times our residents have a choice and are under no obligation to continue their stay with us beyond the end of the week (unless they are on a short term stay, in which case they are free to leave whenever). We believe that we offer the best value for money of any Residential Hotel/Nursing Home on the South Coast. Prices are lower at the Normanhurst whilst maintaining a quality service.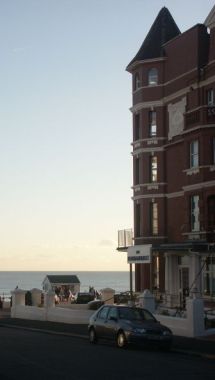 Prices at the Normanhurst are based on the size and location of the rooms. If you would like to know which rooms we currently have available and their prices please contact us. We do ask for the weekly or monthly room rate in advance should you wish to stay with us.
Residential Hotel
Permanent - (Weekly rates). Most rooms are en-suite.

Single - From £470 per week
Double - From £470 per person per week

Short Stay - From £80 per person per day.
Nursing Home
Permanent - (Weekly rates)

Single - From £901 per week

Short Stay - From £130 per person per day (depending on needs).
Annex - EMI Home
Permanent - (Weekly rates)

Single - From £500 per week

Short Stay - From £80 per person per day.
Additional Costs
We welcome visitors to join our guests for tea or coffee at no extra charge, and lunch for £5.50 per guest and supper for £3.50 per guest. Diabetics and special diets are catered for.
Outgoing telephone calls, faxes and emails are charged at nominal rates. However, all internal and incoming telephone calls, faxes and emails are free of charge.
There are no hidden service charges added to guests' accounts and tipping is strongly discouraged.
Service Links
Please view the information on our three sections and the services that we offer.
Residential HotelNursing HomeAnnex - EMI HomeServices
Funding
The quoted prices are rates for the rooms at the Normanhurst. However, some may be either fully or partially funded by local authorities or other organisations. Please contact us for help and advice on the funding options available.
Why Price Ranges?
A range of prices is given for the rooms in each section of the Normanhurst, because not all rooms are equal. You will pay more for a turret room with panoramic sea views than for a smaller room overlooking the gardens for example. We do NOT charge privately funded residents a different rate from those funded by local authorities
Changing Rooms
You may feel that you would like to change rooms or you may need to move from one section of the Normanhurst to another. Both are simple and existing residents are given first refusal on rooms that become available, so don't worry if the room you really want isn't currently available.